The Best Place To Buy Or Sell Secondhand Toilet Trailers, Jack Leg Toilets, Shower Units, Single Units, Mobile Urinal Units
Search
Showing 1 - 6 of 6 items

32x Ladies WC's with 20 wash hand basins
12x Gents WC's, 9.5m of urinal trough and 20 wash hand basins
An ex hire fleet multi-link toilet block roughly comprising of:-
£22000 ono including VAT Excellent condition as less than 18 months old.
3 ladies toilets, 1 men's toilet plus 3 urinals.
4 vanity sinks.
LED lighting.
High quality cubicles and fittings.
Granite work tops and splashbacks.
Aluminium steps.
Lowara grey water pump.
Gravity flow fresh tap water.
Super luxury toilet trailers (2 for sale).
£21000 +VAT ono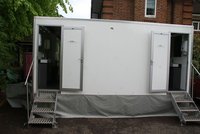 White cabin with lighting, access steps and hand rails
Length: 6.7m Width: 2.6m Height: 3.15m Weight: 3.5t
Ladies flushing WC x 4 and wash band basin x 2
Gents flushing WC x 2, urinal trough and wash hand basin x 2
Warm and cold water supply
Mains water and waste connection
Single phase 16 amp / 3.5 kVa
Our modern mains connect toilets function exactly like fresh home flushing toilets and can be connected to a sewer line or placed on larger holding tanks.
£6600 +VAT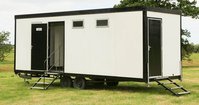 It has aluminium steps that fold out from each cubicle once positioned.

It can be used as a mains connect unit toilet waste and hand wash water, or recirculation unit via its on board header tanks for the hand wash water and full floor space tank for the waste toilet flush via its two grundfos pumps located under the unit.
Here we have for sale is a 14 bay toilet trailer, it is a tow-able trailer that has a toilet pan and a sink inside each of the cubicles, 14 in total.
£12000 +VAT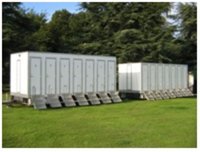 Consists of 6no Plastic recycle units completed with sinks housed in a trailer with 6 individual lockable doors so the unit can be used as a 2 or 3 or 6 or as many as you wish.
Each bay has individual steps and hand rails
Owned from new 6 years old
Always kept under cover
Has done very little miles and very few jobs has been only used in conjunction with our Marquee business
The trailer is in exceptional condition
Colour Blue with minor scratches on some corners on the whole hardly any
Size 14' 6" Long 7' 6" wide approx


6 Single Bay Toilet Trailer
£6950 +VAT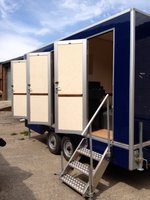 Showing 1 - 6 of 6 items