The Best Place To Buy Or Sell Secondhand Toilet Trailers, Jack Leg Toilets, Shower Units, Single Units, Mobile Urinal Units
Search

Both units are only a few years old and in great working order and ready to go out on hire.
Selling due to a change in personal circumstances and the business can easily be re-located to suit a potential buyer.
For sale- Opportunity To purchase a new toilet hire business which will include Brand, Website, Social media outlets as well as two 3+1 Trailer units. (worth £25,000- £30,000). So much potential for expansion.

Manufactured to the "Changing Places" standard for profoundly disabled people.
This unit has more space and the right equipment, including a height adjustable changing bench and a hoist.
This is a re-locatable business. We have built a Changing Places Toilet prototype and inserted all the equipment.
Total cost on this unit including everything is under £30,000.00
I would be looking for 35k which would cover my costs. The price would include the prototype unit , the domain name, DVD, the web site, email etc.
Portable Disabled toilet - Including delivery.
£35000 +VAT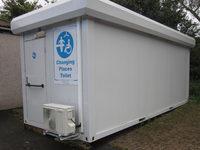 Showing 1 - 3 of 3 items